Festival Alegre, a division of Cuisine America specializes in authentically mexican cuisine. Each event menu is prepared with the freshest possible ingredients, and completely made from scratch.
Festivel Alegre es servicio profecional a domicilio servimos eventos de 50 – 2000 invitados. Sucomida es preparado cosina grande, certificada y asegurada utilisamos ingredientes frescos. Todas las recetas son autenticas y toda la comida espreparada fresca para su evento con cocineros mexicanos mas chefs. Estamos sirviendo para quincianeras, bodas, bautizos, aniversarios y fiestas familiares.
Nosotros podemos ayudar arealizar su evento social, acemos cuulquier tomano de fiesta. Usted puede escoger el menu, manteles, servilletas de color y platos desechables. Nosotros podemos hacer centros de mesa especiales. Podemos trabajar con su prosupuesto o crear su evento especial de su suenos
Nostros trabajamos en muchos salones, iglesias, espacios comerciales y eventos afuera cualquier lacalicizacion Chicago y suburbios.
Festival Alegre
Servicio a Domicilio
Celebrar los sabores de Mexico
Celebrar sue « Dia Especial » con los sabores ricos de Mexico.
Frescos brillantes platillos son preparados solo por nosotros en la gigante cocina de banquetes.
Nosotras tenemos mas de trenta cinco anos de experiencia en banquetes profesional.
La compania Festival Alegre propiedad de la familia y listo para servir a su familia. Nosotros regularmente servimos fiestas entre 100 – 2000 personas.
Gracias por selecionar este salon y la oportunidad para servilos nosotros.
Dios los Bendiga
Chef Jaime
Festival Alegre
Llama por una cita.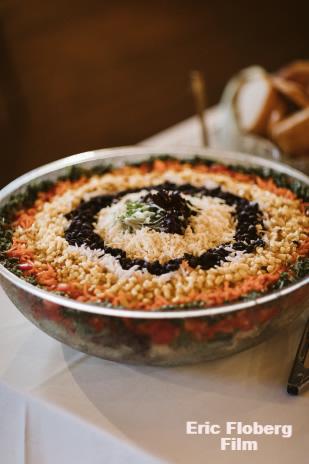 Apertivos/Appetizers

Quesadillas De Tres Quesos
Handmade flour tortillas with melted chihauhau, Monterey jack and mozzarella

Tortas Pequenos
Bolillas filled with pinto beans, shredded beef,
salsa, lettuce and tomato

Sopes De Chorizo
White corn sopes layered with beans, chorizo, serrano salsa and crumbled cotija cheese

Champiniones Tulum
Braised silver dollar mushroom caps stuffed
with creamy shrimp and crab filling
Avacado cream sauce

Tamalas Oaxaqueno
Handmade tamale filled with pulled chicken
and chihauhau cheese

Ensaladas Fresco/Salad

Ensalada De Jicama Con Berro
Salad of jicama sticks, watercress and
toasted pumpkin seeds
Cilantro lime dressing

Caesar Classico
Crisp romaine, shaved parmesan cheese, shredded carrot and cotija cheese croutons
Creamy Caesar dressing

Ensalada De Napalos
Cactus strips tossed with queso fresco, jalapeno, white onion and chile rojo

Ensalada De La Casa
Mixed greens, carrot, cucumber, red cabbage and tomato
Ensalada De Frutes
Cantaloupe, honeydew, watermelon, grapes and strawberries
Comidas de Pollo/Chicken
Fajitas De Pollo
Mesquite grilled chicken covered with grilled green pepper, sweet onions and tomato
In light adobo
Pollo Poblanos Empanisada
Breaded chicken breast with mushrooms and vibrant roast poblano cream sauce
Pollo Relleno
Chicken breast with homemade bread stuffing oven roasted and glazed with chipotle
Pollo En Adobo
Marinated grilled chicken breast in our ancho guajillo adobo sauce, garnished with roasted red pepper and onions
Pollo Con Mole
Rotisserie style chicken topped with a rich red mole sauce
Gallina Borracho
Chicken marinated in tequila and lime juice, mesquite grilled and topped with pico de gallo and chihauhau cheese
Platillos De Marisco/Fish
Filete De Pescado Relleno
Tilipia filet spirals with spinach, shrimp and crab filling served with a lemon caper wine sauce
Salmon Con Camote****
Sweet potato crusted filet of Alaskan Salmom
Cilantro lime sauce
Carne De Puerco/Pork
Carnitas De Puerco
Marinated pork shoulder roasted with guajillo, garlic, onion and spices
Chuletas De Puerco a la Parilla
Seared pork chops with pasilla pepper, roast carrots, onions and Yukon potatoes
Guisado De Puerco
Boneless pork slow roasted in tomato adobado sauce with fresh mushrooms
Lomo De Puerco
Pork Loin with chipotle achiote spice blend,
Hickory roasted and served with mole or sesame pipian
Carne De Res/Steak
Barbacoa De Res
Marinated boneless beef slow roasted in beef adobo broth
Fajita De Res**
Sliced skirt steak topped with bell peppers, onions and tomato broth
Arrachera Carbon**
Mesquite grilled skirt steak with Serrano escabeche garnish
Steak a la Tampiqueno***
10 oz. New York Strip Steak with chile garlic oregano
Sirloin De Rez
Our most popular carved roast sirloin with natural beef au jus
Arroz, Frijoles y Papas
Arroz Rojo
Arroz con maiz y ajo
Arroz con gondules
Frijoles Pintos, Frijoles mayo cobas
Frijoles negros
Frijoles charros con chorizo y tocino
Papas molida rico, Papas rotisado
Ensalada de papa con rajas de poblano
Salsas Fresco y Moles
Mole rojo, verde, negro
Mole Oaxaca Amarillo
Mole de cacahuate
Salsa De jitomate asado con Serrano
Salas de jitomate y chipotle
Salsa verde con tomatillo y cilantro
Pico de gallo
Guacamole traditional**
Xnipec yuacotan with harbanero and radish
Tortillas y Pan
Tortillas de maiz Amarillo o blanco
Tortillas de Harina
Pan ranchero
Pan bolillos
Pan dulce con miel